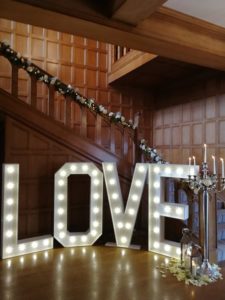 Many brides feel like they don't know where to start when beginning to think about how to decorate their venue, so we've put together a few handy hints & tips to give you a helping hand!
Make the most of your venues features such as big windows, grand staircases or beautiful open fireplaces.  Place a floral archway full of fairy lights around a fireplace or draping either side of a tall window. 
Choose a colour scheme that actually ties in with your venues decor.  You don't want to go for a purple palette and forget that your reception room is decorated in greens!
If you have chosen to have wedding chair covers, remember to include chair covers for your registrars and any chairs that will be laid out in that area.  Sometimes there are 3 or 4!
It's a nice idea to have a 'guest table' within your venue's entrance or where your guests will arrive and see it.  This sets the scene for your special day and it's a lovely opportunity to inject your personality with photos of you both, your guest book/frame, a place to put your post box or card holder and a nice way to add decoration to your venue or room. 
As excited as you are, resist the urge to buy everything you see straight away.  It often works out cheaper than you think to hire wedding items such as jars, log slices or crates from a wedding venue stylist as they already have these items and can help with other aspects of your wedding dressing at the same time.  This also saves you the hassle of selling them on afterwards.
If you do have your own items carefully gathered to create the look you want, consider hiring a venue stylist who also provides a venue set up service like us at Everything Covered.  We can use our professional experience and attention to detail to re-create your vision and leave you to relax on the morning or day before your big day!
Don't feel tied to what you think you're supposed to do such as standard white table cloths.  The most stunning weddings are when the bride & groom aren't afraid to move away from tradition and push boundaries.  Why not choose some coloured table cloths or decorate your chairs with ribbon or chiffon drapes instead of a standard sash or chair cover.  We have a wide range of chair decor for you to choose from including lace chair caps!